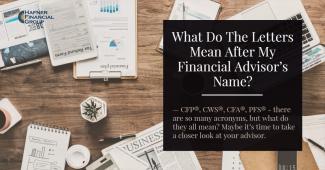 What Do the Letters Mean After My Financial Advisor's Name?
CFP®, CWS®, CFA®, PFS® - there are so many acronyms, but what do they all mean?
Have you ever wondered about the education needed, the exam process, or even how your advisor maintains their certifications. By researching the requirements of your financial advisor's certifications you can tell what kind of education and training they have. You can also tell if they continue their education, or stick with the old ways.
Does your financial advisor have any of these designations? Maybe it's time to take a closer look at your advisor.
Chartered Financial Analyst® (CFA®)
To become a charter-holder, an advisor must meet four requirements. They must:
Have four years of qualified work experience
Complete the CFA®program
Become a member of the CFA®institute
Adhere to the CFA® Institute Code of Ethics and Standards of Professional Conduct
To participate in the CFA® program, an advisor must either have a four-year degree or four years of relevant work experience. They must also pass three six-hour exams.
In the CFA® program, a candidate will learn about asset valuation, financial reporting and analysis, and portfolio management techniques. They will also learn how to apply different tools and inputs in asset valuation, and portfolio management - more specifically, how to manage equity, fixed income, and derivative investments.
To maintain a CFA® designation, one must pay a fee, read and file a professional conduct statement, and review CFA® policies and procedures each year.
Certified Financial Planner® (CFP®)
To be a Certified Financial Planner®, an advisor must pass the four "Es". The four "Es" are education requirements, exam, relevant experience, and code of ethics. The CFP® designation is given by the Certified Financial Planner Board of Standards (CFP® Board).
To be a CFP®, an advisor must have a bachelor's degree or higher from an accredited university or college and must complete a list of coursework in financial planning.
After the education requirement has been met, a person is able to register to take the CFP® exam. The CFP® exam takes three days to complete and is 170 questions long. The questions asses the candidates ability to apply their financial planning knowledge to financial planning situations.
The experience needed to earn the CFP® designation must fall within one of the six financial planning elements. They are:
Establishing and defining the client relationship
Gathering client data and goals
Analyzing and evaluating the client's financial status
Developing and presenting financial planning recommendations and alternatives
Implementing the financial planning recommendations
Monitoring the financial planning recommendations
In order to keep their certifications, license holders are required to complete thirty hours of continuing education every two years with two hours on ethical behavior.
Certified Wealth Strategist® (CWS®)
The Certified Wealth Strategist® designation is offered through Cannon Financial Institute. Their website states:
"Cannon believes every client deserves sound advice and exceptional service. To nurture that belief Cannon created a holistic practice management program dedicated to better serve high net worth clients. The Certified Wealth Strategist® designation, established in 2007, provides a unique industry perspective on how to collaborate with your client and your client's financial influencers"
To become a Certified Wealth Strategist®, an advisor must have at least three years of relevant experience and a four-year degree from an accredited school. They must also complete two instructor-led training sessions, self-directed study on numerous wealth management issues, and a capstone project.
The exam to earn the CWS® designation is a hefty one with ten mastery exams that have to be completed. 
To keep the CWS® designation, an advisor must complete 33 hours of continuing education classes every two years.
Personal Financial Specialist® (PFS®)
Someone who holds a Personal Financial Specialist® designation is more than a financial advisor. They are a CPA with extensive knowledge in tax planning and financial planning.
To be considered for a PFS® designation, the candidate must:
Be a member of the AICPA
Hold a CPA certification issued by the state authority
Have at least two years of full-time teaching or business experience in personal financial planning
The PFS exam is a five-hour computer-based exam made up of 160 questions. Half of the questions are standalone multiple-choice questions while the other half is made up of case studies followed by several accompanying multiple choice questions.
To continue holding the certification, a person must take 60 hours of continuing education every three years.
Does your financial advisor hold any of these certifications? Looking at an advisor's certifications will tell you what kind of education and training they have. It also shows you that they are willing to take the time to continue their education and keep their certifications. 
While not all financial advisors hold certifications, there are many who do. It might be worth your time to research the certifications your advisor does hold, or just find an advisor who is certified.